Hello, everyone! Today I listed some exciting new packages in the Storied Yarns Shop - the Ultimate Fangirl Sweater Kits! These kits will give you plenty of hand dyed yarn (in the colorway and base of your choosing) to knit a sweater, and they're available in
DK
and
Worsted
weight yarn options as well as a
Combed Top option
for you spinners out there. For every kit you get two full pounds of yarn or fiber!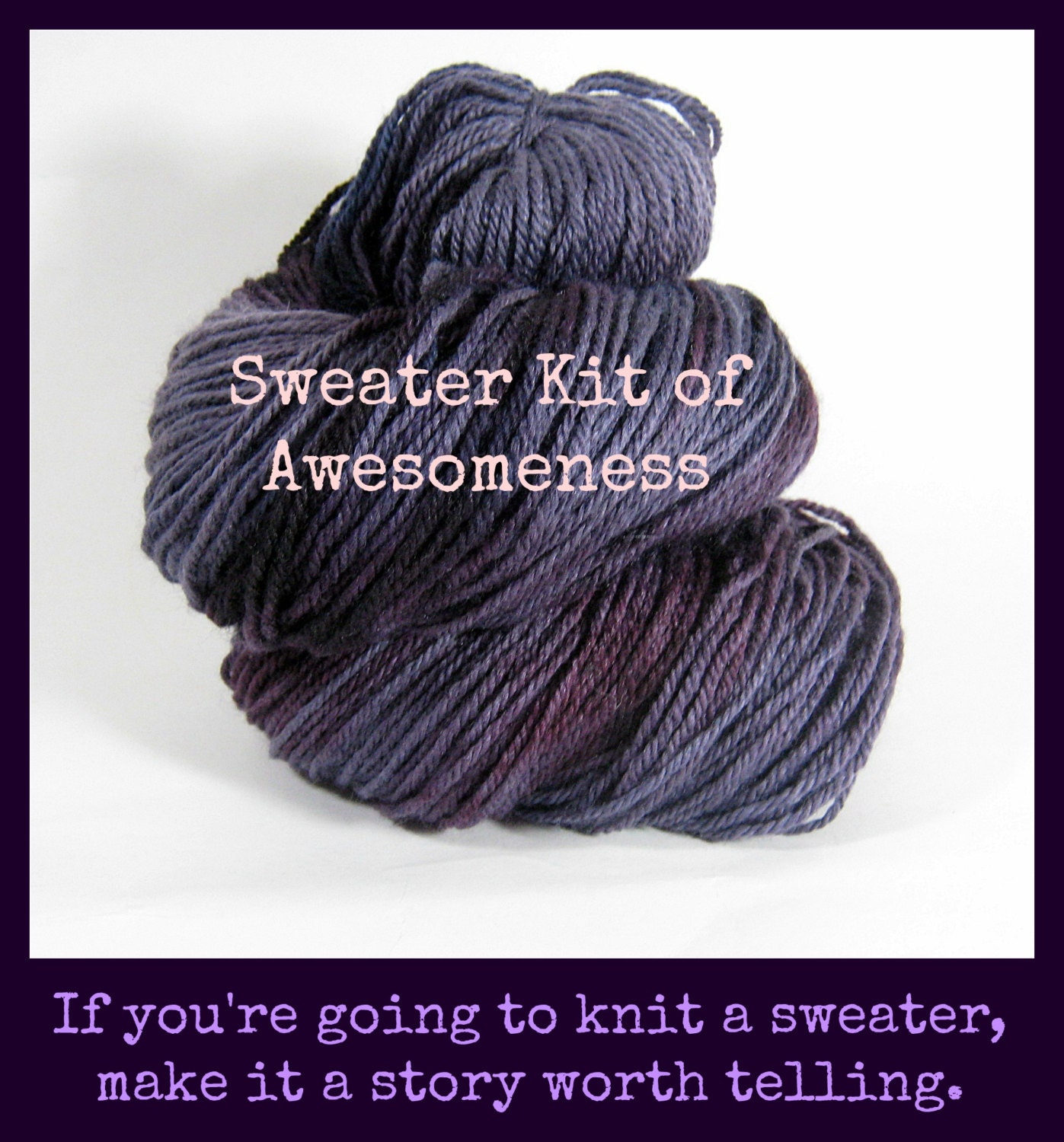 So, how about some suggestions of what to knit with these lovely kits?
First up: the Ultimate Sweater Kits (2 pounds of yarn or fiber) ...
For the
DK weight option
, you will have 2000 or 2650 yards of DK weight yarn, depending on the base you choose. What sweaters can you knit with that? Quite a few, I should say!
How about a simple cardigan with a pop of textured detail at the collar and sleeves?
Roheline
should do the trick! This one would look really great in a semi-solid OR a variegated colorway, I think. For something with a little more detail (that would probably work best in a semi-solid "Stock Character" colorway), how about
The Archer,
a hooded pullover with cable details, or a cabled cardigan -
Locke Street Cardigan
?
For the
worsted weight option
, you will get 1696 or 2480 yards.
Emilien
is a great, basic hoodie pattern that would look awesome striped with two colorways or in one semi-solid or variegated color.
Girl Friday
has been a favorite pattern of mine for quite some time, and I also really love
Dark and Stormy
. I think either of those would work best in a semi-solid, stock character shade.
If you're going to
buy the fiber option
, of course your yardage will vary depending on the weight you spin and the yardage you are able to make. However, a few suggestions might help you narrow down the sweater patterns that would work especially well for handspun yarns. My friend Brittany recently published
Libretto
, which has a really fun shape and structure that lends itself well to textural yarns. I also really like
Idlewood
, which would be super cozy in handspun. The clean lines and stockinette body of the
Effortless Cardigan
and
Atelier
would also work really well in handspun, colorful yarns.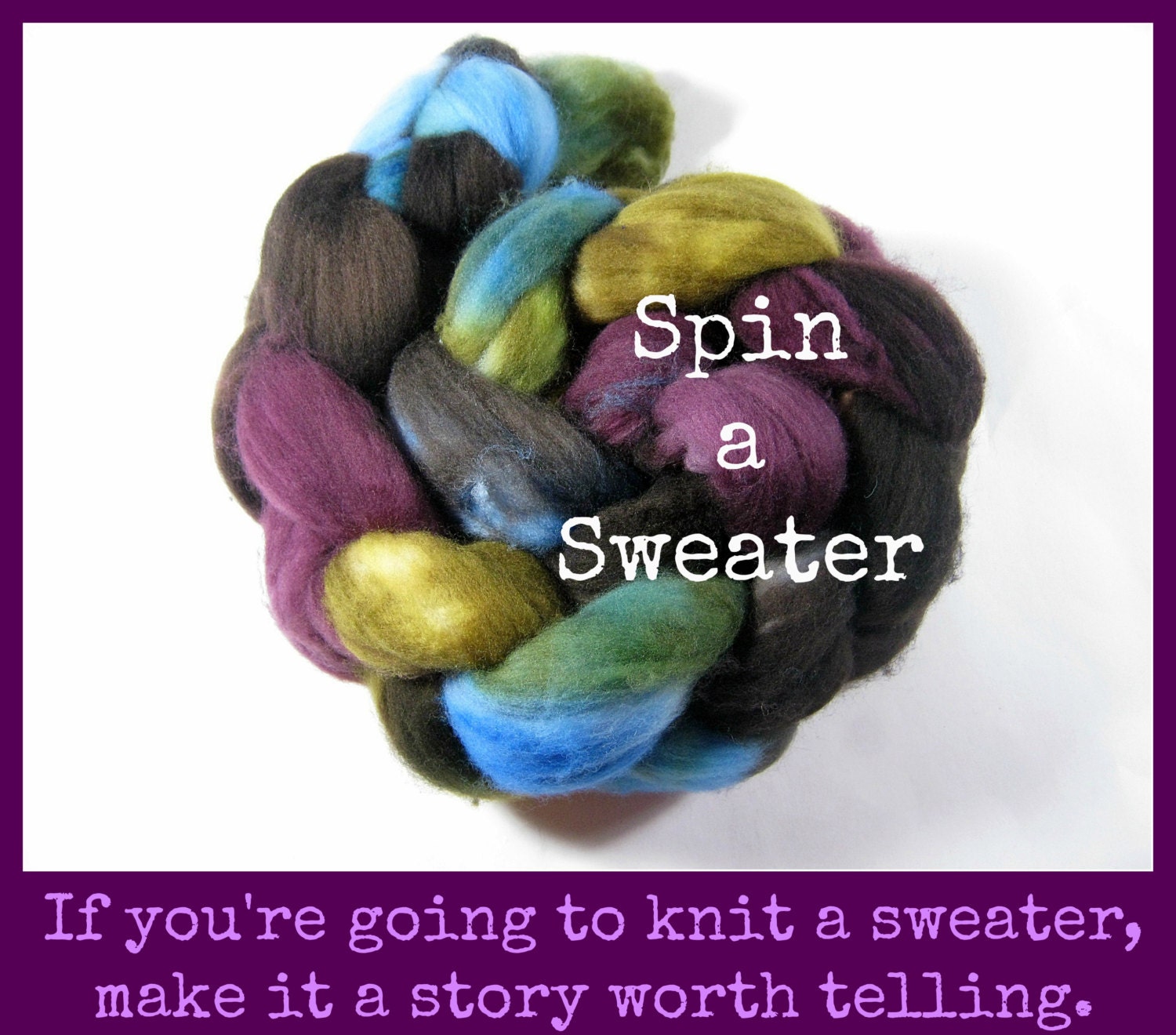 Next up: The Major Fangirl packages (24oz of yarn or fiber) ...
For the
DK weight Major Fangirl sweater kit
, you will receive 1500 or 1980 yards.
Summer Solstice
is a cardigan that would look fantastic in a boldly variegated yarn or a tonal one.
Vodka Lemonade
is an adorable cropped cardi that would be really nice in almost any color.
Gnarled Oak Cardigan
has beautiful details which would stand out really well in a semi-solid stock character colorway, and
Calligraphy Cardigan
, which I totally lust over, would be fantastic in a variegated colorway (note: for the largest sizes you may need to upgrade to Ultimate Fangirl for that one).
For
worsted weight
, try these on for size: you're going to have either 1272 or 1860 yards to play around with. I love the interesting structure of the
Levenwick
cardigan. The
Brownstone pullover
has a male model but I think works really well for either gender, no matter who that sweater will be for! Don't forget
Francis Revisited
; that one would be great for a colorful worsted weight yarn OR handspun.
For handspun
, any of the above suggestions would probably work, too, as would
Abalone
- it only needs 500 yards! :)
Don't forget to check out my
album of available colorways
, including the milder Stock Character semi-solids in addition to all the bold, variegated options. If you're interested in a sweater package but not sure which one is right for you, just contact me on Etsy! Together we can make you the fangirl sweater of your dreams. :)